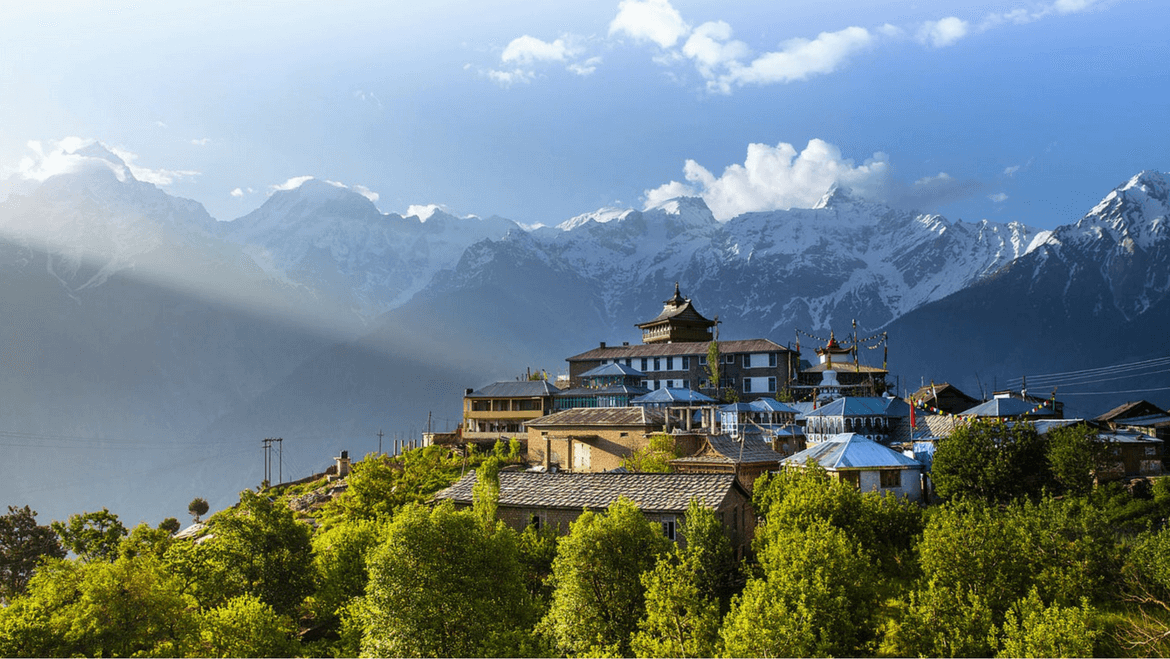 Quick Information
Location :
North India (350-6975m above the sea level)
Population :
6077248 persons (2001 census)
Languages :
Hindi and Pahari
Bordering State :
Punjab, Jammu & Kashmir, Haryana, Uttranchal, China
Best Time To Visit :
Throughout the year except for the monsoons (July-mid Sept)

Overview
Landscaped with pristine high rising mountains, dotted with bucolic settings, quaint towns, unending pine knolls and gravid with heavenly beatitude, the hill state of Himachal is an idyllic destination that once captured the imagination of the British stalwarts of colonial India.
Its serenity & salubrious clime, refreshing zephyr, cultural & spiritual opulence continue to cast their spell unabatedly on one and all. The cornucopia of adventure activities makes the icing on the cake.
Destinations / Experiences
Destinations/Experiences/Content
Experiences
Introduction
Shimla
Toy train (Kalka-Shimla), refreshing day hikes, colonial charm, stroll on the stylish mall, skiing at Narkanda and Kufri

Among the sylvan surroundings of Shivalik hills, at a height of 6500 feet, rests Shimla, the most popular hill resort of India. The legacy of British era in the form of splendid edifices, quaint cottages and the Kalka Shimla railway line (toy train) form the major tourist attractions, besides the obviously beautiful lofty snow peaks, deep gorges, lush green valleys which will still your nerves like anything. The church & temples and facilities for mild adventure activities are an added attraction. Thus Shimla is such a bundle of attractions that can enchant and entice people of any age bracket and varied tastes. The celebrated writer Rudyard Kipling and renowned painter Amrita Shergil were among the many admirers of serene, secluded and spellbinding landscapes of Shimla.

Kullu - Manali
Breath taking views, ancient temples, adventure activities both for summers and winters, shopping

Valley of shawls; valley of Gods; valley of apples are the popular epithets which very well describe the resplendent Kullu valley. The entire region is strewn with temples, which are built in different styles of architecture. Nature seems to be very generous with this region. The terrorist problems in the Kashmir valley forced the nature buffs to explore an alternative for themselves, which they rightly found in Kullu valley. Since then it has experienced a great boom in the tourist arrival figures.

Set in a picturesque landscape of ravines, ridges, peaks, glaciers and twisting trails, the hill town of Manali is an oversubscribed tourist destination of Himachal Pradesh. Adventure savants will revel in discovering the variety of adventure sports that can be enjoyed here.

Dharamshala
Tibetan culture, closest views of the Himalayas, adventure sports

Popularly known as the Scotland of India, Dharamshala is one of the 80 hill stations that were established during the colonial era.

The town is divided into two areas - the lower Dharamshala that houses the government buildings and the upper Dharamshala or the Mc Leodganj (only place in India after Leh where the foreign tourists outnumber their Indian counterparts). The Tibetan culture that pervades the entire place is the strongest factor in pulling the visitors. The residence of Dalai Lama, the Buddhist head, has made it a magnet for Buddhist devotees who call it 'The Little Lhasa of India'.

The town is hemmed with snow capped mountains that appear to be standing at a knocking distance- a feature that sets it apart from others. The destination offers a pack of adventure activities ranging from rock climbing, rappelling and trekking in the Dhauladhar ranges. The paragliding heaven of Bir and Billing are also not far away from here.

Dalhousie
Old world charm - be it colonial remembrances, ancient temples or un spoilt country side

Yet another worthy territory of beautiful state of Himachal Pradesh is Dalhousie, a hill station named after the British Governor General of India Lord Dalhousie. This vintage destination has cradled well all that came to it in the course of time viz the ancient culture, the colonial impression along with its beautiful surroundings. Although it does not offer much for sightseeing but it is an idyllic destination for those who fancy a laid back holiday watching the sun going down and rising again; listening to the chirping of birds and gurgling of streams; spending hours appreciating the aroma & colour of the flowers or simply getting inspired by the mighty Himalayas.

Chamba
Ancient temples

The former capital of princely state of Chamba, this town dates back to the 10th century. Legend says it is named after Princess Champavati who sacrificed her life to provide water to the parched city. This hill station forms an interesting destination for those who wish to witness traditional living and rich cultural heritage of which its ancient temples, museums, folk songs, miniature paintings and handicrafts are quintessential examples.

Palampur
Monasteries & temples, tea plantations

The apt altitude, ample water and cool climate inspired the British to develop Palampur for tea plantations. Although the town itself has nothing much to exhibit but there are numerous attractions, like Andretta pottery village, Baijnath temple etc, at short distances from here. The world famous hang gliding site of Billing is also not far away.

Lahaul and Spiti
An abridged version of Ladakh - barren mountains, shimmering lakes, old Gompas

If you are looking for succor for your harried bodies and souls, you cannot find anyplace better than Lahaul and Spiti. The landscape here is strikingly different from the rest of Himachal Pradesh.The nature here is as raw and undisturbed as any inveterate nature savant could demand.

The social fabric of the area is an interesting mix of Hinduism and Buddhism. Accordingly you find numerous temples besides the Gompas. Logically, you can find nature in most undisturbed form only when an area is scantily populated. So, it goes without saying that in Lahaul and Spiti the density of population is very sparse. Accordingly, the choice for private accommodation and eateries is limited at this place. However, when here you cannot help agreeing to Rudyard Kipling's statement, "Surely the Gods live here, this is no place for men."

Naldehra
Golf course in quaint setting

Mostly visited in an excursion trip from Shimla this place is an inviting destination for the crazy golfers or for those who wish to flee the din and bustle of the towns and spend a holiday relaxing in the lap of nature. Hotel 'The Chalets', where the accommodation units are fashioned after the Swiss style cottages, at a stone's throw from the golf course makes it a destination.

Chail
Natural splendour
It can be a destination for those who just want to sit idle and be one with nature.
Kinnaur valley
In the pipeline
Suggested Holidays Content
| Holiday Name | Time | Destinations Covered |
| --- | --- | --- |
| Himachal Highlights | 11 | Shimla-Kufri-Chail-Manali-Taragarh-Dharamshala (Mc Leodganj)-Dalhousie |
| The Hallowed Himachal | 6 | Dalhousie (churches)-Mc Leodganj (monasteries)-Jwalaji &Chamunda-Palampur (Baijnath temple other monasteries)-Manali |
| Culture and Heritage trail | 9 | Shimla-Palampur-Dharamshala-Pragpur-Dalhousie |
Festivals
| Festival Name | Time Of The Year | Introduction |
| --- | --- | --- |
| Himalayan International festival (Dharamshala) | December | Celebrated to commemorate Dalai Lama's Nobel Peace Prize and to promote peace and understanding among nations. |
| Kullu Dussehra | October | The richly adorned images of Raghunath temple lead the processions at Dussehra festival. The devotees pay homage to Lord Raghunath while music and colour fill the 'Silver Valley' |
| Paragliding festival | October - November | Para gliders sail the skies from internationally famous Bir & Billing in the Kangra valley. |