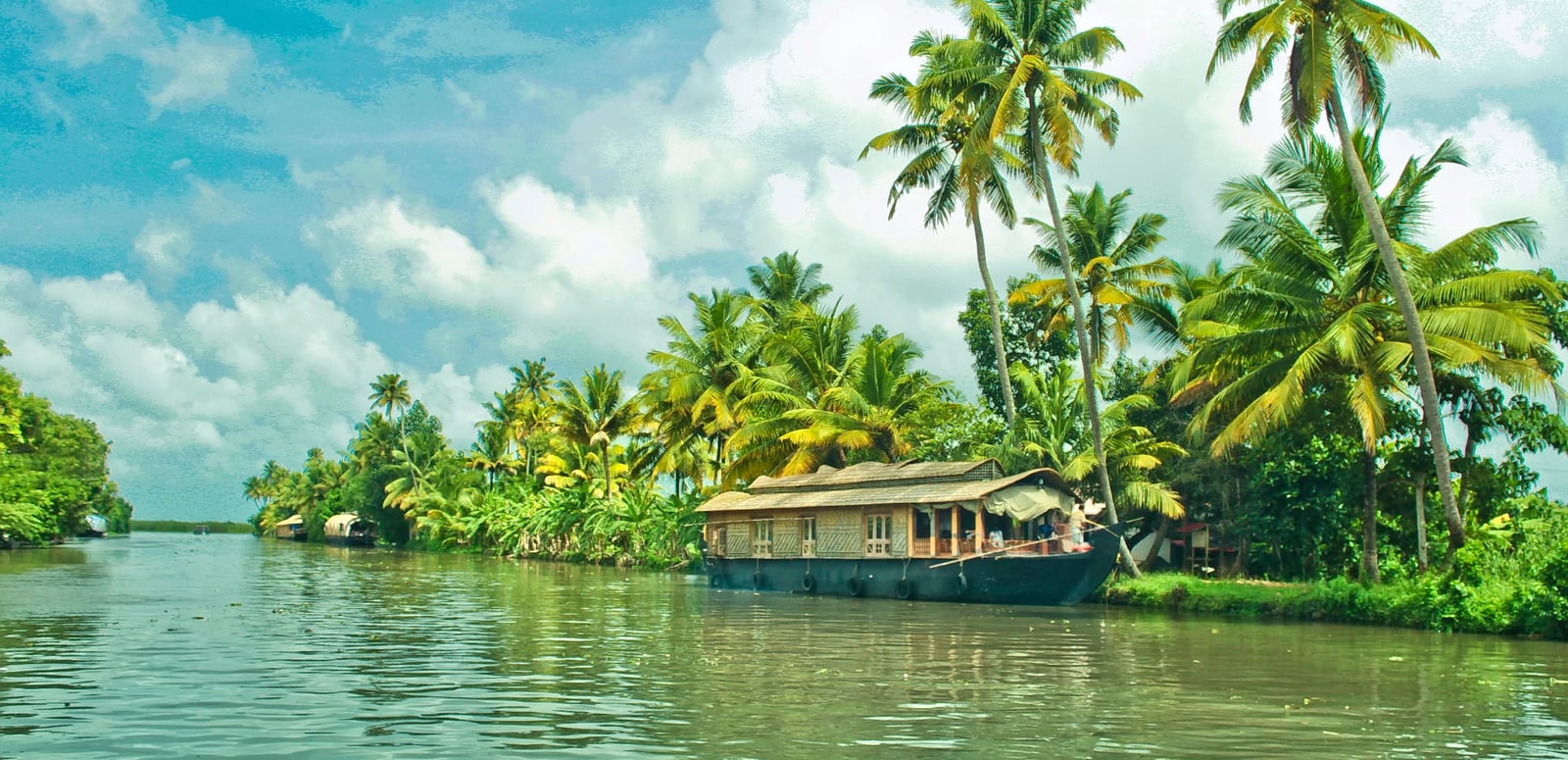 Quick Information
Location :
South western tip of India
Capital :
Thiruvananthpuram
Population :
3, 18, 38,619
Languages :
Malayalam; English is widely spoken
Bordering State :
Tamil Nadu and Karnataka
Best Time To Visit :
Monsoons (June-September) if you are coming for Ayurveda, otherwise from October to March
Summers: (Mid Feb -May) :
Average temperature ranges from 32 – 36 °C
Monsoons (June-Sept ) :
Average temperature ranges from 22 – 28°C
Winters (Oct - mid Feb) :
Average temperature ranges from 18 – 28 °C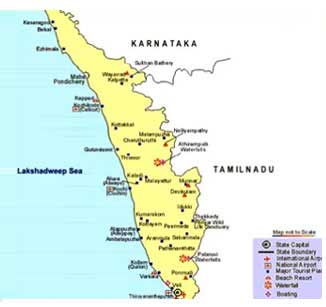 Overview
With numerous tourism awards tucked under its belt, the riveting state of Kerala is also among the top 50 destinations that National Geographic Channel recommends one must visit during his lifetime.
Inundated with immense scenic beauty, the region is blessed with myriad tourist attractions….halcyon beaches, emerald hill stations, rare wildlife, world famous regattas, spicy cuisine, riveting Kathakali dance and the martial art of Kalarippayattu. But the ones that knock the tourists off their feet and let Kerala enjoy that envious position on the tourist map are its untrammeled backwaters and authentic Ayurveda practice. So, come to sail in luxurious houseboats and undergo relaxation massage and discover yourself why this land is called 'God's own country' and also why we say that we treat our guests like God.
Destinations / Experiences
Destinations/Experiences/Content
Experiences
Introduction
Thiruvananthapuram
Beaches, heritage and culture, Ayurveda

The capital of 'God's own country' Thiruvananthapuram is a very apt introduction to the Keralan culture and the modern developments that the state has undergone to keep itself abreast with the rest of the world. The rich tradition of the town dates back to almost 1000 B.C. Thiruvananthapuram is popularly known as the 'City of Sacred Serpent' as it derives its name from Anantha, the five headed serpent upon which Lord Vishnu reclines.

Trivandrum as Thiruvananthapuram was earlier known sprawls over seven hills and is thus like Rome an undulating city - one moment you are up, the next, down. Once a pleasant sleepy town has now emerged as a major tourist destination and scores a perfect 10 for all the three A's of tourism viz. attraction, accessibility and amenities. Visit the museums and palaces, get rejuvenated at an authentic Ayurveda centre, watch a Kalaripayattu performance or observe the spectacular sunset at the Shanghumugham beach. The environs of the city also have a lot to offer.

Alappuzha
Backwaters, houseboats, and boat races

The feature that puts Kerala so strongly on the world tourism map is its backwaters- the USP of this God's own country. The total expanse of backwater stretches over 1500 kms, with a network of 44 rivers, lagoons and lakes from north to south. Alappuzha, which forms the main part of this network, has the peculiar geographical feature of having the water in level with the land. This gives the advantage of getting a closer look at the countryside life on shore while on a backwater ride in a luxurious houseboat and probably this is the most fashionable way to taste the true flavours of Kerala's rustic life.

Alappuzha is a district of immense natural beauty, and is very aptly known as the Venice of the East. During the boat race competitions the town becomes especially active.

Kumarakom
Backwaters, bird life, culinary, Ayurveda

Jutting out in the Vembanad lake, it is a sleepy town where the passing of time has little meaning. The place bears a strong resemblance to Alappuzha in its milieu. To put it straight it is also essentially a backwater destination - a perfect place for a lazy and a laid back holiday. There is cornucopia of green color. It seems to swathe the whole area. Kumarkom, crisscrossed with canals all over, is strewn with plethora of top notch luxury resorts - all testifying the popularity of this destination.

While Kumarakom is a part of Kuttanad, the 'granary or the rice bowl of Kerala', lake Vembanad is world famous for its aquatic treasure of Karimeen (pearl spotted fish), shrimps and prawn. The cooks here have capitalized over this treasure. Their fish preparations are a tempatation to one and all. Kumarkom's marshy mangrove is a resort for medley of migratory birds such as Siberian stork, egret and others making it a bird watcher's paradise.

Thekkady
Wild life, spice plantations, hill station, Ayurveda

Located among the low-lying hills in the Idukki district of Kerala, Thekkady is an idyllic tourist destination. The major tourist attractions here are Periyar Tiger Reserve, which is the only one of its kind in India or perhaps in the whole world and the large-scale spice and tea-coffee plantations that are open for visitors. Visiting Thekkady is quite a learning experience.

The crisp, cool air and the pleasant diversity in the flora and fauna of this place makes it quite a riveting destination for those who hold nature close to their heart.

Munnar
Hill Station, wild life, immense scenic beauty

Swathed in the velvety green carpet of tea plantations, it is one of the most romantic landscapes of the world. Just give wings to your imagination and see if the tea plantations over the undulating hills appear to you as a tortoise back or a carpet rolled out in the honor of the several guests that flock every year from several parts of the world.

Munnar has many things up its sleeves to sweep the tourists off their feet. The Neelakurunji (a blue colour flower) that springs once in 12 years to blanket the entire region and the highly endangered Nilgiri Tahr (mountain goat) are the main draws of this very touristy place. So, beware!! You can avoid a trip to Munnar only till you are ignorant of it or you have not had a glimpse of it while surfing through the television channels or internet or simply leafing through a magazine.

Kochi
Tropical beaches & backwaters, music & dance, temples & churches, Ayurveda

Referred to as the 'Queen of Arabian Sea', Kochi is the most cosmopolitan and modern city of Kerala. Kochi was the capital of the erstwhile princely state of the same name. It was also dominated by the Chinese, Dutch, Portuguese and the British at some point of time, all of whom have left indelible marks. The existence of Jewish Synagogue, Christian and Portuguese churches, temples and mosques, Chinese fishing nets all at one place portray Kochi as the melting pot of various cultures. Besides the monuments, the tourists can enjoy thrilling boat races, spellbinding Kathakali dance performances, apart from surfing the beaches and going on lively cruises. Kochi is a hot spot for tourists round the year with a wide variety of dining options to suit your pocket and palate and also comfortable hotels to help you unwind and relax in tranquil environment near amazing sea coasts.

So, if you are in Kochi you can muse in museums, munch on crispy snacks, marvel at the Chinese fishing nets, choose your pick from fishermen's net, cheer boat races, see Kathakali performances and shop for souvenirs to make your visit memorable.

Wayanad
Hill station, plantations, wildlife, caves, Ayurveda

If balmy breezes, surreal surroundings and tranquility are your cup of tea, then for you, Wayanad is undoubtedly the destination to be. It is acclaimed by the Keralans as having the most beautiful landscape in the state. A good part of the rolling hills are covered with deciduous rain forests. With 26% forest cover, far greater than any other district in Kerala, Wayanad is home to two major wildlife reserves. Patches of water bodies in the form of lakes and waterfalls accentuate its appeal.

The name Wayanad has been derived from the expression 'Vayal nadu' - the village of paddy fields. But the district is rife with plantations of many spices, as well as Tea, Coffee and Cocoa. The three major towns of Wayanad are Vythiri, Sultan Bathery and Kalpetta (district Head Quarter). Earlier known as Ganapativattam (meaning circle of Lord Ganapati), Sultan Bathery acquired its present name after Tipu Sultan marched in with his army and used the 13th century temple here to store his arms. Very photogenic, Lakkidi is the gateway to Wayanad and is one of the highest points in the district. While moving from Vythiri to lakkidi a giant but chained ficus tree is sure to catch attention. It is said that a guide helped a British to discover the place but in order to take the credit of discovery he killed the guide. The latter's spirit started haunting the subsequent travelers. In order to arrest the menace, a priest chained the troublesome spirit to this tree.

The district has the largest population of aborigine people in Kerala. And you won't find many traveler's around. But it makes a wonderful break in journey between Kochi and Mysore/Bangalore. The destination, however, beckons especially those who are adventurous and have an inclination to choose the offbeat trails.
Suggested Holidays Content
Festivals
| Festival Name | Time Of The Year | Introduction |
| --- | --- | --- |
| The Great Elephant March | 17-20 January | The festival begins in Trichur and ends Thiruvananthapuram. 101 tuskers decked in style give you a chance to feed and ride. Special ceremonies like the ceremonial elephant feeding, let visitors get very close to these graceful animals. |
| Alappuzha Nehru Trophy Boat Race | 2nd Saturday of August | This is the biggest boat racing event of Kerala. Huge boats that resemble a snake in shape compete with each other to reach the finish point. Each boat has a large no. of rowers, a few helmsmen along with a few cheer leaders. No other sport in the world has such a large number of participants. |
| Cochin Carnival | Last 10 days of the year | Celebrated in the fort Kochi area, the major highlights are massive procession of caparisoned elephants and games for entertainment. It looks as if everybody is bitten by a party bug. |
| Indira Gandhi boat race | Last week of December | Its pure theatre with serpent shaped boats competing with each other and the crowd cheering them with full enthusiasm. Named after our late Prime Minister Mrs. Indira Gandhi, it is an endeavor mainly to promote state tourism. |
| Onam | August - September | Onam is the most famous festival of Kerala. All Malayali's irrespective of religion celebrates it. It is the harvest festival of Kerala and is celebrated as the home coming of Mahabali, the generous king who once ruled over Kerala and was ousted by Lord Vishnu. Flower carpet is prepared in the front yard of every house. Special prayers are offered in temples. Delicious dinner is the USP of Onam celebration. Traditional food is served on plantain leaves |
Take Care :
Go only for those Ayurveda centres that are classified or approved by the Department of Tourism.
Non Hindus are not permitted to enter some of the temples. Footwear must be taken off while entering any temple premise.
Guests are expected to take off their footwear outside while entering any Kerala house.
Smoking is banned in public areas.
Display of affection in public like kissing and hugging is not appreciated by the Keralites.
Nudity is not allowed on any Kerala beach.
There are heavy penalties including imprisonment for possession of narcotic drugs.