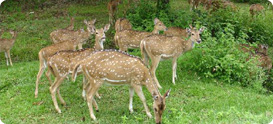 Gir National Park Quick Information
Summarise the city :
Only haven for the King of the jungle
Best time to visit (High & peak months) :
late nov - early march [closed during monsoons from mid June to mid Oct]
Experiences :
Wildlife safari with the Lion forming the highlight
City calling code :
02877
Recommended no. of days for a tourist :
1-2 days
Essentials to be carried along :
Binoculars to sight & cameras to shoot the shy wildlife. Woolen during winters (Nov-Feb.) and T-shirts for the summers (March-June)
All about the city :
Go Gir in Gujarat to look for the Asiatic lions, for this is their only sanctuary in the world. In fact, Sasan Gir Forest is today the only place in the world outside Africa, where the lion can be seen in his natural habitat. The Asiatic lion is slightly smaller than its African counterpart. The April census recorded the lion – count in Gir at 411. So, there are reasons to believe that Gir accords amply fair chances to spot lion or may be a pride of lions if you are attended by good luck.
The initiative & efforts of the Nawab of the princely state of Junagadh to get for Gir the status of "protected area" resurrected the fortune of this National Park. The population plummeted to alarming 15, discourtesy – slaughter for hunting trophy.  The number of Asiatic lions has been steadily on the rise since 1980 in the Gir Lion Sanctuary.
The rugged hilly terrain with steep rocky hillsides is dotted with innumerable streams that provide relief to the forest's wild inhabitants during scorching summer. Artificial water holes have been created to serve during droughts that are not very uncommon.
Fauna highlights: Chital, Chinkara (Gazelle), Four-Horned Antelope, Leopard, Nilgai, Spotted Deer, Wild Boar, Wild Ass Panther and the Hyena.
Avifauna highlights : Marsh crocodile can be sighted easily in its rivers, particularly in the lake of the Kamaleshwar dam. In fact, crocodiles are even bred at a breeding farm at Sasan.
Flora highlights: Teak, Jamun, Tendu and Dhak trees interspersed with large patches of grasslands.
Terrain Profile: It is the largest dry deciduous forest in western India. The forest has a rugged terrain with steep rocky hillsides with lakes and streams.
Charges :
Safari Fee: Rs. 1500/- Per Safari Per Jeep
Entry Fee: For Indian - Rs. 650/- Per Jeep Per Safari
For Foreigner(Mon – Fri) - 40 USD Per Jeep Per Safari
(Sat – Sun) - 50 USD Per Jeep Per Safari
Festival Period – 60 USD Per Jeep Per Safari
Guide Fee: Rs. 100/-
Getting There
| Air | Rail | Road |
| --- | --- | --- |
| Nearest Airport is at Keshod (86 kms) | Sasan is the railway station, on the meter-guage line. However, the most convenient railhead is Junagadh (65 kms). The park is well connected by the road network from the nearest town of Veraval and Junagarh, which are at a distance of 32 km and 64 km respectively. Daily two steam trains run to Veraval and one to Junagarh from the rail junction at Sasan Gir, which is about 1 km from the park. | Distance from Main cities Ahmedabad 895 km, Rajkot 160 km, Junagadh 65 km, Veraval 43 km, 100 km from Diu |
Other FAQ's / General Information
| Question | Answer |
| --- | --- |
| Best Time? | Between Late Nov - mid March it is comfortable weather wise Between March - June to have easily visible wildlife amongst the sparse and withered undergrowth during the very hot and dry summers. |
| No. of Safari and their Timings in Sasan Gir National Park? | There are 2 Safari Per Day. Morning 6.30 to 9.30 Evening 3.30 to 6.30. |
Suggested Holidays Including Gir National Park
| Holiday Name | No. Of Days | Destinations Covered & Highlights |
| --- | --- | --- |
| Colorful Vibrant Gujarat | 07 days - 06 nights | Ahmedabad – Jamnagar – Dwarka – Somnath – Diu – Sasangir – Ahmedabad |
Picture Gallery