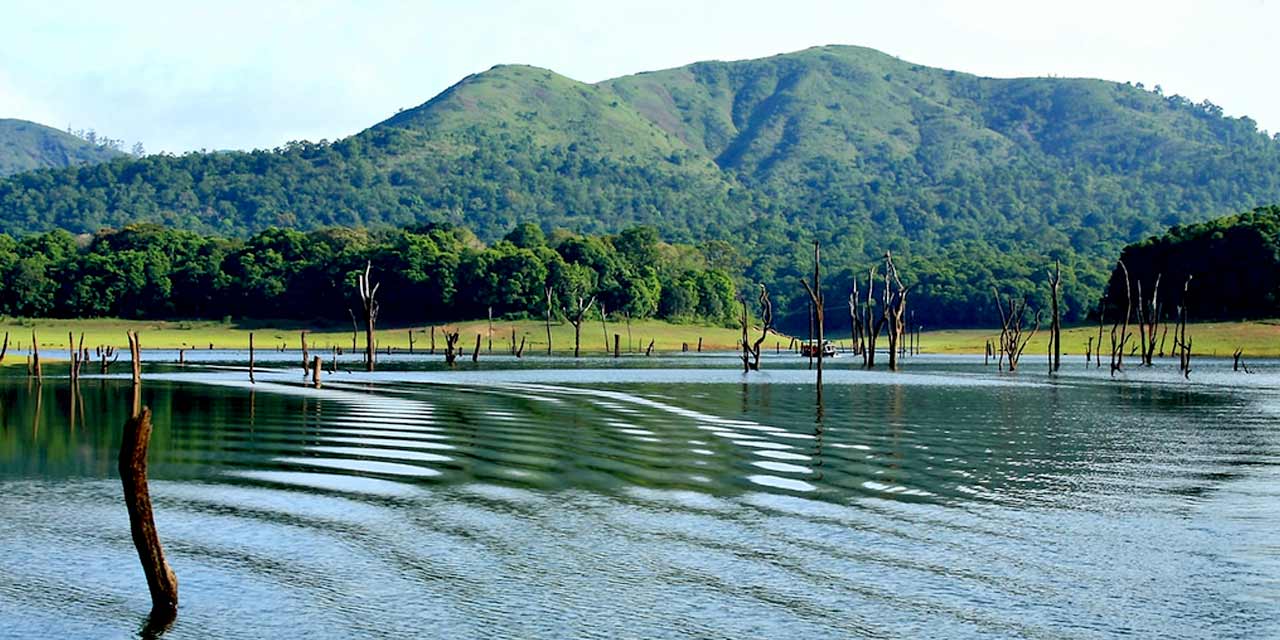 Thekkady Quick Information
Summarise the city :
City that spices the country
Best time to visit (High & peak months) :
September to March
Experiences :
Wild life, spice plantations, hill station, ayurveda, learning
City calling code :
+91-4869
Recommended no. of days for a tourist :
A day is sufficient
Best buys :
Tea and spices
Essentials to be carried along :
Cotton wears & light woolens for winters, binoculars to be used in the wild life sanctuary
All about the city :
Thekkady is derived from the word Thekku meaning Teak trees. Located among the low-lying hills in the Idukki district of Kerala, Thekkady is an idyllic tourist destination. The major tourist attractions that have earned it a unique place on the tourist map of India are – Periyar Tiger Reserve, which is the only one of its kind in India or perhaps in the whole world and the large-scale spice and tea-coffee plantations that are open for visitors. Visiting Thekkady is quite a learning experience (check A Learning Experience in Kerala one of the special tours of India).
The crisp, cool air and the pleasant diversity in the flora and fauna of this place make it quite a riveting destination for those who hold nature close to their heart. Travelling among the cardamom hills and capturing spice plantations in your cameras form cherishable memories. Do not forget to carry home some spices and tea packs, for where else would you find this quality at such reasonable price.
Thekkady Tourist attractions
Name (Suggested Time Required To See The Place)
Description
Entrance Charges (If Any) For Foreigner
Close Day (If Any)
Open / Close Time
Periyar Tiger Reserve check our tiger trail 'Tiger Show 'and the guest feedback (video) on this tour.

Sprawling in a good 777 square km area that includes low-rising hills, lakes, rivers this is among the few sanctuaries that are world recognized for their bio diversity. Its tropical rain forests shelter majestic elephants, white-eyed tigers, leopards, barking deer, gaur, many kinds of reptiles and great variety of birds. Although a tiger reserve, spotting a tiger here is rare.

The most remarkable feature of this park is the manner in which poaching is replaced by protection. The tourism department here has killed two birds with one stone i.e. through a very smart Eco tourism project they have roped in the poachers to become guides in the sanctuary. Without spending anything they have got excellent guides and at the same time curbed the menace of poaching.

A comfortable way to view the wildlife is going for a boat safari in the Periyar lake (a manmade lake as the tree stumps jutting out of water suggest) where you can see animals closely but safely as they come to the lake for taking a dip or a sip. The forest department arranges elephant rides and trekking, night trekking, camping and bamboo rafting inside the sanctuary. There are 2D/1N or 3D/2N programs.

INR 300

Still camera: INR25 Video camera: INR 200

none
6 am to 6 pm Boating timings: 7 am to 11 am & 2 pm to 4 pm
Tribal Heritage Museum

To give you an insight into the lives of 5 tribal communities that inhabit the Periyar area, the reserves organizes a 2 hour Tribal Heritage Program. As a part of it the visitors are taken to a tribal hamlet and a heritage museum that showcases traditional fishing gear, hunting equipments, indigenous medicinal plants.

INR 50
none
9 am - 5 pm
Murikkady (5 km from Thekkady)

What differentiates the Indian food from rest of the world's fare is the use of spices. The main ingredients of a recipe may remain the same, but if the use of spices is altered the whole preparation undergoes a sea change. Murikkady is the place where you can see large-scale plantations of these flavoring agents.

Kumily (4 km from Thekkady)

If the spicy Indian food (check: A Gourmet tour in India and The Taste of India, one of the special tours of India) has tickled your taste buds and you do not wish to long for it back at home, then make sure to visit Kumily. It is a spice-trading centre on the outskirts of Periyar Tiger reserve. Here you can shop for the best quality Indian tastemakers at very reasonable rates. The main bus station and most of the medium range accommodation in the Periyar region is in Kumily.

Shops are open between 11 am and 8 pm
Pandikuzhi ( 5 km from Kumily)

This picturesque place is cradled between Chellarkovil and the Tamil Nadu State border is a popular picnic spot. Pandikuzhi offers great opportunities for trekking and is a photographer's delight.
Getting There
| Air | Rail | Road |
| --- | --- | --- |
| Nearest airports are Madurai (140 km) and Kochi(190 km). | Rail heads at the most convenient distances are Teni (60 km), Kottayam and Chaganassery (114 km) and Madurai (140 km). | There are frequent buses from Kumily (4 km away) to various tourist centers. It is 140 km  of SW of Madurai, 190 km SE of Kochi, 253 km NE of Trivandrum(Thiruvananthapuram), 110 km south of Munnar, 128 km east of Kumarkom (via Sabrimala), 164 km SE of Alappuzha, 149 km from Kodaikanal. |
Thekkady Excursions
| Excursion (Distance In Kms) | Description |
| --- | --- |
| Mangla Devi temple (15 km from Thekkady/30 min) | Hidden in thick vegetation, this is a typical Keralan style temple perched on the top a hill. But visitors are allowed here only on the Chithra Pournami festival day that too after seeking the permission from Wildlife Warden, Thekkady. |
Suggested Holidays Including Thekkady